Hello, all you lovely people! Guess what time it is.
It's time for Beautiful People again! *cheers* I am once more participating in the link-up hosted by Cait at Paperfury and Sky at Further Up and Further In. Hopefully it will help me break out of the writer's block I've been having this month… writer's block combined with "do-I-really-have-time-to-write-this-story-and-is-it-even-worth-my-time" block. YES, THAT IS A THING. (That I just made up. Shhh.)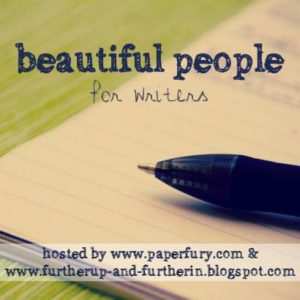 I will be doing this with one of my favorite characters (shhh don't tell my other children) Katie Aline. She's one of the main characters in my current novel and you can read more about her here. Here's a brief bio:
Katie Aline is fourteen years old and goes to the local high school that I haven't named yet. She's smallish for her age and has long, golden-brown hair, brown eyes, and a prosthetic leg. Even though she's very extroverted and loves people, she's somewhat shunned by her classmates because of her leg and her standoffishness. She has a secret that I can't tell you and lives with her foster parents Jon and Chryse.
Let's jump into the questions!