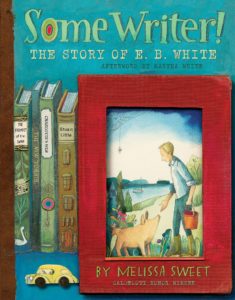 "SOME PIG," Charlotte the spider's praise for Wilbur, is just one fondly remembered snippet from E. B. White's Charlotte's Web. In Some Writer!, the two-time Caldecott Honor winner Melissa Sweet mixes White's personal letters, photos, and family ephemera with her own exquisite artwork to tell his story, from his birth in 1899 to his death in 1985. Budding young writers will be fascinated and inspired by the journalist, New Yorker contributor, and children's book author who loved words his whole life. This authorized tribute is the first fully illustrated biography of E. B. White and includes an afterword by Martha White, E. B. White's granddaughter. (Via Goodreads)
Click here to buy on Amazon.
Even though I'm not the target age for this book, I loved it. E. B. White's story, told by Melissa Sweet, was riveting and laid out very nicely.
The illustrations were adorable. I loved that the author included pictures of his original drafts, all scribbled over. Even famous writers are messy with their first drafts! The collage-style illustrations really make the book pop, along with pictures of White.
The entire biography was fascinating and engaging. Many biographies I've read are dull and dry, and I quickly lose interest. With this book, I could hardly put it down.
It was immensely encouraging. As a young writer, the book inspired me to keep on plugging away. I would recommend this for anyone who writes or wants to write. I would even recommend it to anyone who doesn't want to have anything to do with writing. It's that good. I rate it four and a half stars.
See this review on Goodreads.