Hello everyone! Hope you're having a wonderful week. I was tagged by Lisa at Inkwell for the Voices of YA Tag (thanks Lisa!), which was created by Caitlin Lambert. You can find her original post here.
~RULES~
Thank the person who tagged you

Link to the original creator

Answer the ten questions

Tag at LEAST two other YA writers/bloggers

Share with the hashtag #VoicesofYA
Which I won't be following all of because I am a #rebel. I'm using a hashtag… that counts, right? Right???
Anyway, here are the questions!
What draws you to YA?
In all honesty, I've only recently discovered YA. There are some things I like about middle grade (MG) a lot better, but I've really been enjoying YA lately since there are more characters my age and I can somewhat relate to them. I think I still prefer writing MG fiction, though. (And I'm not absolutely sure what is considered YA – I looked at a list on Goodreads and some of my childhood favorites were on there. So…)
Describe your writing process. Do you like outlines and structure, or seeing where the story takes you?
Answer 1: I don't like excessive outlining. Answer 2: I like having a plan. So I guess I'd call myself a mix between the two… a plantser?? ;D I usually have a pretty well-written-out idea of where I'm going with my story, but I don't have a Very Specific Outline™ that has every single scene written out. I like some surprises.
How long have you been writing? Where are you in your journey?
Well, I've been writing since somewhere between age ten and twelve. And as for the second question, not as far along as I'd like to be. 😉
What do you need to write? Coffee? Music?
I absolutely must have a piece of paper and/or pen. That's pretty much it. Although I prefer writing on my Kindle and Bluetooth keyboard. And I do like some music on occasion.
Also, it helps if my brain is working properly.
If you could offer one piece of advice to another writer (OTHER THAN "don't give up"), what would it be?
The one thing I would tell any young writer (or any writer at all, really) is READ, READ, READ, READ. Seriously! If you read a lot, you'll have an inner sense of what works in a story and what doesn't. It even improves your spelling. No joke.
What book still has you reeling from its plot twist? (*no spoilers please*)
Umm. Well. I usually don't reel from plot twists because I *cough cough* usually predict them… So honestly, I can't remember the last book that shocked me with a plot twist. Sorry!
What books are you most anticipating for this year?
I have a bit of a rant about this one. I read the first four books in the series around three years ago, and stopped because I didn't have the last book and it wouldn't be coming out for a year and it ended in the most horrible place ever… Anyway. Suffice to say, I wasn't happy.  Then I kind of forgot about the series and figured I'd keep an eye out for it at the library.
Finally I found a copy of the fifth book at a library. I read it. Enjoyed it. THEN I REALIZED THAT OH NO, #5 WAS NOT THE LAST BOOK IN THE SERIES. #6 WAS. AND #6 WOULD NOT BE OUT UNTIL THE END OF THIS YEAR. ALSO THERE WERE NOT ENOUGH PAGES FOR IT TO BE PROPERLY RESOLVED. Help.
Can we all just acknowledge what a horrible, horrible place Ms. Wood left off at??? Anyone? Anyone?
I know this is more of a MG novel, but I'm still looking forward to it. RANT OVER. Apologies.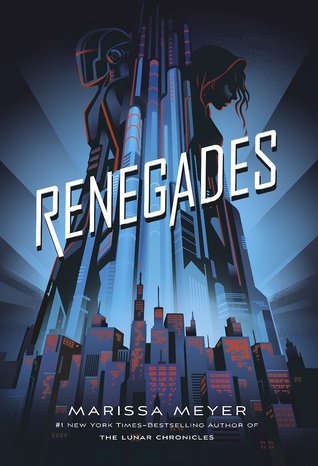 This one, obviously, since I recently read Ms. Meyer's Lunar Chronicles and enjoyed them very much. AND IT HAS SUPERHEROES. *dies* I want to love this one so bad.
In your opinion, which YA book/series has the most unique premise?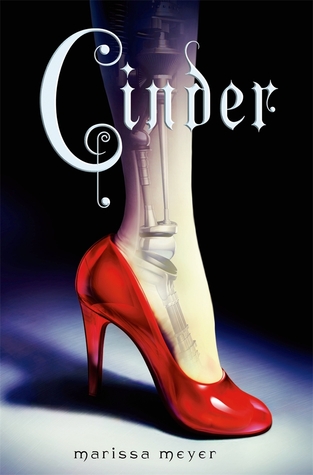 Cinder is a science fiction retelling of Cinderella. Dreamlander explores the concept "What if our dreams are real?" Both pretty unique! 🙂
Although I'm pretty sure Dreamlander isn't a young adult novel, I thought it deserved to be included here anyway.
What is your all-time favorite quote from YA lit (I know, I'm cruel)?
Honestly, I don't really keep track of quotes from books. *blushes* But the one quote that has stuck with me the longest is this.
Courage, dear heart.
It's from The Voyage of the Dawn Treader by C.S. Lewis, and I really love it.
What book do you most hope will have a movie adaptation?
Probably the Lunar Chronicles, although I'm sure there are dozens of others that I would love to see made into movies. Although whoever made it would probably blow it and leave out parts. Obviously there would have to be at least four movies in the series. 😛
And I tag… nobody, because I'm a rule-breaker. If you're reading this and want to do it, consider yourself tagged. You can even say that I tagged you. 😉
Did you enjoy reading this tag? What do you think about my answers? What's your favorite quote from a fictional book?