The day is finally here.*
*Well yeah I'm being dramatic but it's my blog. *grins*
I've wanted, since last year at least, to write a journaling mini-series. I've thought about starting a YouTube channel as well, but we'll see if that happens. (Probably not. Don't get your hopes up. And now I'm doing it!
I've been journaling since I was… six years old, I think? But it's only been in the past two-three years that I've gotten really serious about it. I currently have a regular journal, bullet journal, Bible journal, and a dream journal… and I'm probably leaving something out. ; )
I'll be going through a lot of things in this series, and I don't know how long it's going to last. I'll try to do at least one journaling post a month, going through my different journals and telling you what's working for me and what isn't. Hopefully there will be pictures as well. I'm no photographer… so we'll see about that too.*
*look at all the pretty pictures!! ; ) which may or may not be the reason this post took so long and is a day late.
Today, I'm going to talk about some reasons why I journal, and I may go into more detail in a later post because I'm writing this like an hour before I need to release it. Shh. (Update – hahaha I'm actually finishing this up a day after I wanted to post it but y'all don't hate me, right? *crickets* RIGHT??)
Let's jump in!
1.  IT HELPS ME REMEMBER THINGS
In many different ways. I have a bullet journal as well as a regular journal, and my bullet journal helps me:
create tasks to complete.
save reminders of important dates.
make goals.
scribble down the things I forget easily.
and lots of other things I'm probably forgetting right now!
(Although I'm not saying I use these features all the time because I'm human just like everyone else. *shrugs*)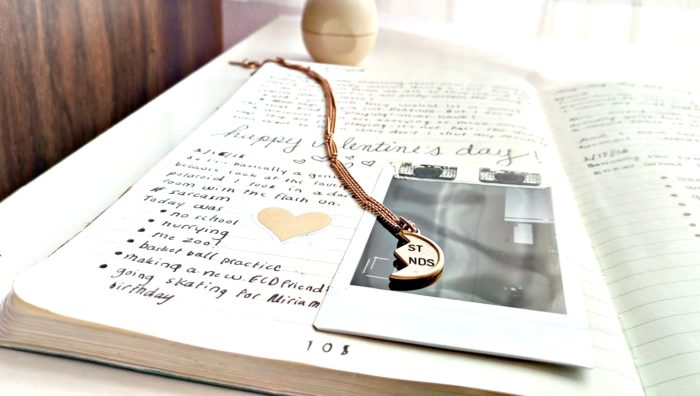 With my regular journal, it helps me remember all the things that would be completely lost if I didn't write them down. Just ordinary things – the joke somebody made, or the thing my sister said. It can go into other things too, like, what was I doing on February 22nd? Oh yeah, I can just flip back and see.
And I feel like this will be really valuable in future years. (Since I haven't been seriously journaling for very long, I haven't been able to look back on as much.) But the things I DO have written down and saved I treasure so much. Like, I have a diary from when I was six or seven. I have never regretted writing something down, but I have regretted not writing things down. 
It'll help me remember my story. Remember where I came from. Remember who I used to be.
well that got deep and long let's move on shall we???
2. IT KEEPS ME ORGANIZED
See the bullet points in the above point. My bullet journal is basically why I'm not insane yet :)) I can create goals and tasks and lists and I really like lists so. Bullet journaling just works really well for me!
3. I LOVE IT
BECAUSE WHY DO SOMETHING IF YOU DON'T LOVE IT IS WHAT I WANT TO KNOW??
But really. I love it, a lot. It's basically my favorite part of my day.
4. IT'S SOMEWHERE TO KEEP ALL THOSE SCRAPS OF THINGS
Am I the only person who gets all the scraps of paper and doesn't want to get rid of them and they just clutter everything up?
But it can be anything, not just those annoying scrappy bits of memories. You can use washi tape and magazine cut-outs and doodles and polaroid photos and dried flowers or plants and ribbons and glitter AND THE LIST COULD GO ON FOREVER.
And if you do that then your journal also looks really pretty! And more visually appealing! Which is obviously very important ;))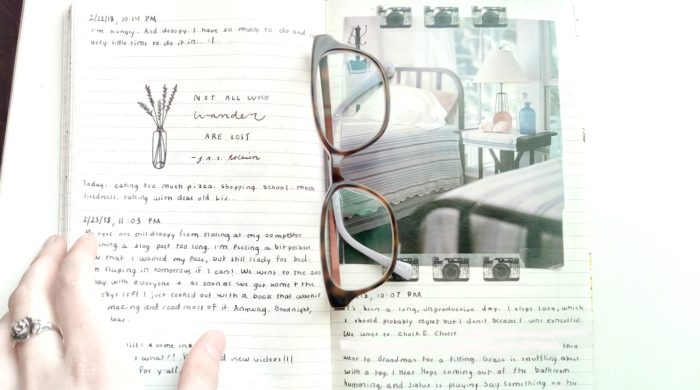 5. IT'S IMPROVED MY WRITING
I'm serious. Journaling HAS improved my writing. I think just writing stuff down all the time, getting into the habit of being more observant, and writing about my experiences, thoughts, and feelings has made me more conscious of the way I write. It's almost like a writing exercise – preparing yourself for writing something bigger.
It probably helps in other ways too but I don't know and haven't time to think of them.
6. IT'S RELAXING
I said earlier that journaling is my favorite part of my day. I usually journal right before bed, and it helps me unwind, calm down, and process what happened that day. Then, when I've thought about the day now behind me, I can plan the day I'm going to have tomorrow, with everything I need to do. 10 out of 10 recommend. Especially while listening to some instrumental/calming/quiet music, with a jar of ice-cold water and warm bed…
SOME OTHER JOURNALING POSTS I LOVE:
here, here, here, here, here, here, here, and here.
(by the way, does anyone have recommendations for good blogs/blog posts about journaling?? for some reason I haven't been able to find many. PLEASE leave me links in the comments, because I LOVE journaling posts!)
SO THERE WE HAVE IT. Why I journal, the first post in a series of (hopefully) many. I hope this post has inspired you, just a little.
love,
Zane
I'm so excited about this series – are you?